arts
New York Singer-Songwriter And Producer Ade Is Back And Talks To Jeremy Williams-Chalmers
New York singer-songwriter and producer ADE is back with innovative new single, Opposites. Simultaneously evoking the heady pull of a hazy dancefloor and the dull ache of morning-after regret, the subversive dance-pop cut paints an empathetic and exhilarating picture of navigating love, lust and friendship in the algorithmic age. Blending buzzing dance rhythms with babbling synths and clean-cut vocals, Opposites glimmers with bleary-eyed hedonism and sees the New York City-native amp up the confident cut-and-paste production he deployed on 2021 debut
Midnight Pizza.
We caught up with the man behind the music to learn a little more.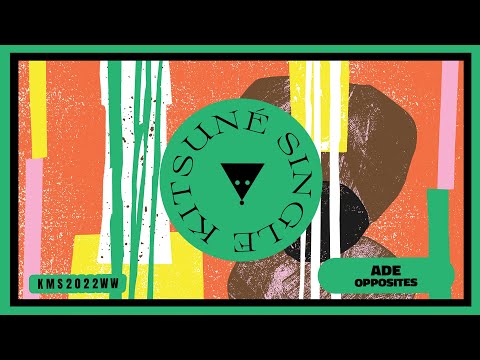 Hi Ade, how are you? It's just over a year since you released Midnight Pizza. How did you find the response?
Hellloooo I'm very well thank you. Excellent, actually.
Yes - a year since
Pizza
- yikes. I feel like Covid Time is a different beast. Things move simultaneously in slow motion and hyperspeed. Sometimes I'll sit back and be like, "wow I've had a really productive week" only to realize that it has, in reality, been a marginally productive 3 months or something. Also, the modern pace of releasing music is INCREDIBLY fast, and to be honest, I think kind of unrealistic and unhealthy for artists, but that just seems to be what the attention span of the modern masses demands I suppose. It definitely makes a year feel like a longer stretch of time between releases than I think it should. It's all good though gotta do what you gotta do and I'm cooking up some new stuff I am EXTREMELY excited to put out.
To answer your question though, I was really happy with the reception. I mean, our first ever show was sold out which felt amazing.
Midnight Pizza
was a big experiment sonically and an attempt at trying to illustrate a through line I hear between tons of different styles of music. It's pretty dense with sonic information and ideas and it definitely had some confused reactions, but there was also what seemed like a handful of folks for which it landed, and honestly, both reactions were ideal. Better to confuse folks than bore them!
What lessons did Midnight Pizza teach you for the forthcoming record?
There are two significant differences between the process for Pizza and how I'm approaching the new material. For one, all of the new songs were conceived fairly recently in comparison to the Pizza material, which was collected over the course of 5 years. I think I'll always jump around stylistically because it feels like a natural reflection of the way I listen to music, but I imagine that shortening the timeline of song conception will add a bit more cohesion to everything. That said, definitely expect my usual bit of 'kitchen sink.' The other major difference is that I am making the new album with a band.
Midnight Pizza
was almost entirely made on a computer and by myself, which was occasionally a kind of paranoid and lonely experience. I definitely wanted to check out the other side of the coin this time around and collaborate with more actual humans haha. Luckily for me, the folks I am working with are some of the most wildly talented and inspiring musicians I've ever met, all of whom are composers in their own right. It's been incredible and important and beneficial to the music to have their sensibilities and palettes in the mix.
You've just released the lead single, Opposites. Tell us about the thought process behind the single.
Around the time
Another Weekend
was released, Kitsune Musique reached out and asked me to contribute to their singles series and I immediately hit them back with a resounding YES, but took a bit to get them a tune because I was in the midst of finishing producing my friend Tor Miller's excellent, recently released album,
Generation of Me.
I knew Kitsune likes their House music so I went through a bunch of old sessions and found a dancier idea to develop for them. I don't make a ton of it, but I am a huge fan of dance music so I was definitely down to play with some of those sonic textures and it ended up being a fun challenge to try and write a non-traditional dance music lyric/melody to go with the track. Atypically for me, the lyrics came very quickly, thematically guided by the vocal sample in the chorus. Things really fell into place in a way I'm happy with.
Though there are echoes of your debut album, it is also a move sonically. How would you describe the track?
Yeah, I sort of think of
Opposites
as a bonus slice of Pizza - the crust, if you will. I think it continues down a path I set up as an option for myself on
Another Weekend,
but lives a little more in the world of traditional house music synth and drum sounds in a way that felt straightforward and fun for me. On Pizza, I was pointedly in pursuit of unusual sonic combinations, but for this track, I thought it would be cool to just keep it in the sonic canon of the genre.
What are your ambitions for the single?
Well, I guess I'd like it if people listened to it a lot hahaha. Actually though, I'd love to discover it made its way into the rotation for some house DJs. That would really be cool to me.
Your influences are very broad - who are you currently listening to most? And who would you most like to work with?

You know, the answer to both those questions is the kind of the same: I have just begun working on the next album with those aforementioned talented musicians, whose projects I have been really getting into. I am completely obsessed with
Starfish in Low Tide,
by Alto Palo, - I just listen to it on repeat. I think they just smashed it out of the park on that one. I also love another bandmate's project Old Feels. His song
Day by Day
is so strange and beautiful and unique. Other albums I've been listening to -
Spiro World
by Time Wharp,
CARM,
by CARM, anything Photay ever releases (I think he's a genius who I'd love to work with), and, since it's summer, The Kinks
Are the Village Green Preservation Society
by The Kinks is heavily in rotation.
Finally, can we expect to see you in the UK any time soon?
I don't have anything planned as of now, in fact, I've only ever played 5 or so shows, but I'd really like to cross the pond and hang.