family
Muslims Will Be Celebrating Eid Al Adha This Year In Circumstances That No One Had Predicted
Millions of Muslims would have been gathering in Mecca, taking part in completing one of the important pillars of Islam, performing Hajj.
This is an important practice for able-bodied Muslims to perform at least once in their lifetime. Mecca is a place where 2.5 million from across the globe usually attend.
This year due to Covid 19 Mecca has had to dramatically downsize and has limited attendance to 10,000 people who are already residing in the kingdom, as Saudi Arabia tries to prevent any outbreaks of coronavirus during the pilgrimage.
Precautions will be taken by wearing masks and adhering to social distancing whilst performing the rituals.
After the Hajj, Muslims celebrate Eid Al Adha known as the Festival of Sacrifice. Muslims remember Ibrahim's loyalty and obedience. As a symbol of Ibrahim's willingness to sacrifice his son, Muslims will, if they can afford it, will sacrifice a goat, cow, or sheep and share this out amongst the community or give to those less fortunate by providing food on the special day.
Many Muslims, including the local Mosque in Craven, will be making special efforts to do Salah (prayer) and have also been preparing for the special Eid Sermon taking place on 31st July.
Covid-19 precautions are being taken and the local community have been informed to complete a registration form to attend any daily Salah (prayer) and also online for Eid prayer.
Members of the Muslim community have been given a rota of tasks to ensure that everyone is safe, to do temperature checks as well as to bring their own prayer mat and adhere to social distancing.
Families will celebrate Eid by dressing up in new clothes and creating special Eid dishes.
Eid Al-Adha is often celebrated by serving meat pilau rice, lamb/mutton curries, meat samosas and lots of wonderful deserts.
Eid is also a special time for the children as they are given gifts and also money.
Sweet box gifts for the family can be obtained from Sugar Munchkin:
Facebook @sugarMunchk2020
Snapchat @sugarmunchk2020
Instagram @sugarmunchkin20220
Here is a typical recipe to celebrate Eid supplied by Yazi of @AmaaliSpice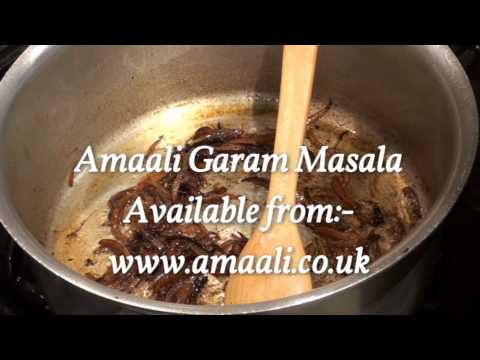 Amaali Pilau Rice with Mutton

Ingredients
1/2 kg mutton on the bone
2 black cardamom
½ tsp peppercorn
2tsp cumin (zeera)
2 inch of cinnamon sticks
2 bay leaves
5 cloves
2tsp salt (or to taste)
3 mugs of basmati rice
1 onion thinly sliced
Oil to cover pan (½ cup)
1 tbsp Amaali garam masala
Although we have used whole spices in this recipe you may use Amaali's garam masala in the meat instead. (optional)

Method
In a large heavy based saucepan add meat and place it on hob. Keep turning meat around to ensure all sides have slightly changed colour
Add all spices apart from Amaali garam masala and fry
Add 1 tsp salt
Once meat is nicely brown, add enough water to cover meat about 2 inches. Bring to boil and skim off any scum.
Cover and allow to simmer for at least 40 mins or until meat is cooked.
(Please note do not overcook meat as it will be going into the rice for it to finish off cooking)
Meanwhile in a bowl soak rice (preferably 30 mins).
Remember to go back and stir rice gently in a cross movement.(Twice)
Remove meat and spices from stock. (We will be using the stock so don't discard it)
Heat oil in a separate heavy base pan and add sliced onions. Fry these until dark golden brown. Make sure you stir to avoid onions burning. You may add small amount of water if onions are sticking.
Add Amaali garam masala and remaining salt
Now add the drained meat into the onion pan.
(I usually discard the whole spices as this will avoid anyone biting into whole spice)
While meat is frying with the onions measure out the stock. You need 4 mugs in total so top the stock up with boiled water
Using a sieve drain rice and let it stand for a few mins
Add stock to the pan that has meat in and let it boil a few times
Add drained rice to the pan and stir in cross movement
(gently avoiding breaking rice)
. At this point you can taste the liquid and if you need to add either more salt or additional garam masala you can
Put lid on pan and reduce heat slightly
Stir again in cross movements (twice)
Once stock has evaporated and rice is cooked, place pan in preheated oven (gas mark 80˚) for 10 mins.
Note: if rice seems over cooked before placing in oven get a dry tea towel and cover inside of lid to absorb the steam. If rice is under cooked do the same but with wet tea towel.

Wishing all Muslims a Happy Eid - Eid Mubarak